Return to Headlines
An Award-Winning Better Place
Imagine a multi-colored bus on multi-colored wheels in the shape of peace signs loaded with happy people rolling along together on a yellow brick road in bliss on a bright sunny day, with happy clouds in the sky that expressed words such as Bully Free, Peaceful Love, Respect, Free, Kindness, Thankful, Fair. Imagine placing this as a drawing on a piece of paper, and then one day you wake up, and it is reality. Seems impossible right, but not for one of our talented Detroit Public Schools Community District (DPSCD) students.
The Parade Company was all abuzz the week before Thanksgiving, fiercely preparing for the 2022 America's Thanksgiving Day Parade. Adding to the excitement, students were invited to participate by submitting a work of art to the 2022 Skillman Float Design Contest. Students, teachers, and families joined yesterday (11-17-22) to unveil the winners' work of art. Detroit Public Schools Community District is proud to congratulate Tahiry Gosby, 4th grade,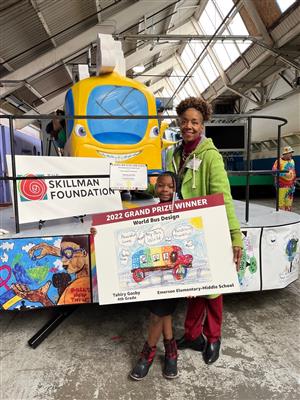 Emerson Elementary – Middle School, for her grand prize award-winning design, My Bus World. That imaginative multi-colored bus is now a float to be used in this year's parade on Thanksgiving Day.
Tahiry takes us on her journey of spreading positive energy with amazing attributes that adorn her better place. As we move into the holiday season, Tahiry reminds students and families that all-inclusion should be celebrated and is normal.
"I am very proud of Tahiry. She embraced the Skillman Float Design Contest and shared with us what her "Better Place" would look like. Tahiry's vision is an all-inclusive kid area inviting to all kinds of children. She is a pleasure in art class and is noted for creating artworks designed with intense colors," said Mrs. Lisa White-Berry, Art Teacher, Emerson School.
"The purpose of this contest is to inspire students and to give them an opportunity to use elements of art to create artwork with meaning connected to a real-world event which aligned with National Art Standards. I am very thankful to have the honor of sharing her design with her family, our community, and The Parade Company."
DPSCD also congratulates Dylan Key, grade 5, from Bates Academy and Monica Ruiz-Olivarez, grade 6, from Clippert Middle School on their honorable mention in the 2022 Skillman Float Design Contest.
The grand prize winner receives overnight accommodation at the Detroit Marriott at the Renaissance Center. A gift certificate for a FREE Parade Studio Tour of 10 guests will be provided for Tahiry to The Parade Studio for a behind-the-scenes tour. Tour to be conducted after Thanksgiving (valid December 2022 – June 2023)
Stay tuned as Tahiry and her family appear in this year's parade along with her larger-than-life float of "My Bus World." The live broadcast of the 2022 America's Thanksgiving Parade will air on WDIV at 7:30 a.m. Thursday November 24, 2022.
Thank you to The Skillman Foundation who provided this platform for students to express their imagination.