Return to Headlines
How Mann Became a Model School
Mann Learning Community is fully-staffed and for Principal Georgina Tait, it has made an immense difference in the school's culture and academic growth since she arrived three years ago.
When she started at Mann, Tait's "diamond in the rough," had issues with systems that were in place and implementing new ones. Immediately, she along with staff members like third-grade teacher Lawnya Hughley and fourth-grade teacher Jennifer Snow challenged each other to raise the quality of instruction, while also exploring strategies to increase parent involvement at the neighborhood school.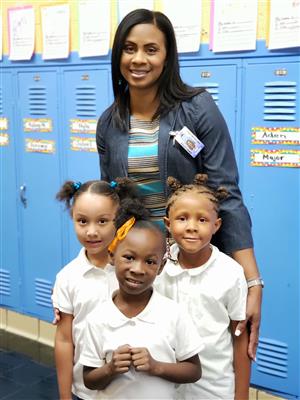 Mann's 2016-17 proficiency rates were 2.2% for English-Language Arts (ELA) and 0% for Math. Today, 13.5% of the school's students are proficient in ELA and 9.7% in Math, earning Mann the distinction of being named one of the District's Model Schools - a project designed to accelerate the usage of core ELA and Mathematics curriculum with integrity in schools that are poised and ready.
We talked to Tait, Hughley, and Snow about the tremendous growth Mann is experiencing, academic and culture shifts, and how they worked to increase parental involvement.
On academic improvements
DPSCD: What has changed at the District level, in terms of support that Mann has received that can be attributed to the growth you're seeing?
Tait: The largest support from the District has been the implementation of a new ELA and Mathematics curriculum. We actually have something that is tangible and applicable to the ways we are being assessed. In addition to that, we've been very supported with Master Teachers. It is a great initiative and I've found that my teachers are much more receptive to that support because they see the Master Teachers as their peers.
On increasing parental involvement
DPSCD: Mann is a neighborhood school. How do you all work to boost enrollment given outside forces and how do you keep the neighborhood committed to your school?
Tait: We are very much a neighborhood school! I like to call us a "diamond in the rough." When I arrived we worked hard to improve our growth mindset and to set higher expectations. Parent participation was extremely low, so I'm proud today that we have 370 students and had 177 parents attend this year's open house. It was so packed, you couldn't move. There are teachers who have been here for 20 years who say they've never seen anything like it.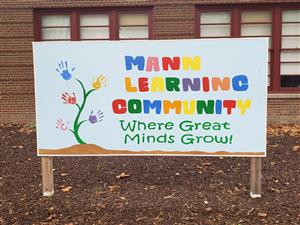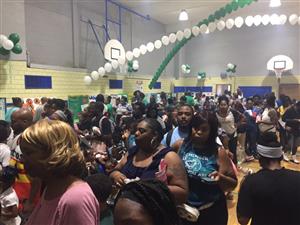 DPSCD: How did you do it?
Tait: We are strategic in what we required the parents to be at the school for. Our students love all of the clubs we offer, so we hold the club sign-up during open house. Parents must attend to sign students up. They show up the same way for conferences to the point that we had 70% of our parents take our parent survey last year. Also, making parents feel a part of the school makes a difference. Many people have biases about African-American parents in our community, but like anyone else, they need to know that we care about their child.
DPSCD: You have more than 20 clubs that teachers co-sponsor in an elementary school. How do you earn that buy-in from teachers?
Tait: I'm lucky that I have teachers who are committed to setting high expectations. If you are in the field of education, it should be your calling. With Mann teachers, the kids come first. We have a really strong commitment to supporting the whole child. We make a real effort to do the "extra" stuff, because we know a lot of our kids don't get it outside of this building.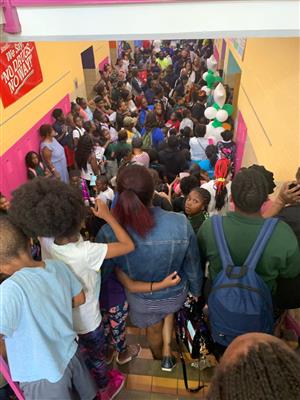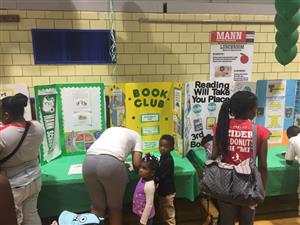 On test preparation
DPSCD (to Hughley and Snow): Principal Tait has shared how committed Mann teachers are to students. You two are seeing tremendous growth among your students on i-Ready and M-Step assessments. How do you prepare students for the tests?
Hughley: We have a book club for kids who score low on the informational, comprehension and literature sections. We try to touch those students who are struggling according to i-Ready early and that helps as well. I also do observations. You have to know your students as teachers, because the i-Ready assessment may not necessarily match where the student is and if you have a relationship with them you'll know that.
Snow: I start preparing now. I make connections with what we're learning in class to how it'll be presented in an M-Step question. I provide different strategies to show them that they are capable of answering the question correctly. I use the i-Ready data to try to close the academic gap and I do small groups to teach them the concepts they need to learn. You have to know their drive. I've had some kids who the test showed weren't ready, but I know I can blend them with the other scholars because they have the qualities that allow them to work in a more advanced group.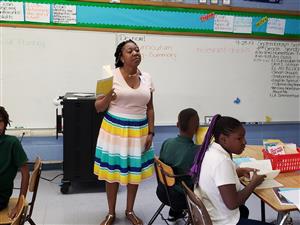 DPSCD: Your journeys to teaching are so different. When/why did you decide to become a teacher?
Hughley: Education was my second choice. I was in criminal justice and was working with my son when he was in kindergarten and I found myself doing the bulk of the teaching. I didn't like the way he was being taught, so I went back to get my post-grad degree.
Snow: I always wanted to be a teacher, even as a kid. I had great teachers who really encouraged and inspired me to be the person I am and I wanted to do that for other kids.
DPSCD: What do you like most about teaching as a career?
Hughley: I love most the gleam in the eye of a student who counts on you to teach them how to learn. When you work in the juvenile justice system you quickly see what can happen as a result of that work.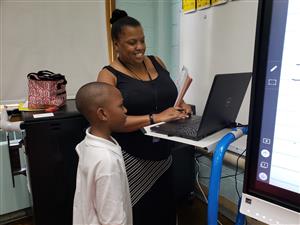 Snow: Years ago when I first started teaching, I was told that fourth grade was the grade that predicted how many jails were built and that bothered me. I literally was lost for words when I was told that. So, I know that I'm making a difference, but I also know that I'm making some type of impact in all of my kids' lives and knowing that keeps me here.
DPSCD: What do you do to reach students who are struggling to perform at grade level?
Hughley: I work to build a rapport with them. Building the relationship is the most important part, then we can work on the confidence.
Snow: I really think that building a relationship with the kids is key because if they don't know and internalize that you generally have their best effort at heart, they won't try. I speak life into that every day because they need to know they're able to do it, even if it's challenging at first. I tell them that their effort is all that I want. Nothing you ever do is going to be perfect or at 100%, but as humans, if you try you'll get better at it with time.
On classroom management
DPSCD: Describe your teaching style.
Hughley (laughs): I'm a little lenient. Mrs. Snow calls my class the "La La Land Class." We are teaching in two different worlds. I allow the kids to talk. I allow them to stand for something.
Snow (laughing): She thinks my class is structured like the military, but, for my kids, every minute counts. They know exactly what they need to look for and they work nonstop until it's time to go. We're on a mission.
DPSCD: How do you structure your time to manage all the duties associated with teaching?
Hughley: I do a lot of reviewing and reading when they're working in small groups or during intervention time. Sometimes they give me 12 free minutes. Twelve minutes is a lot of time when you're a teacher!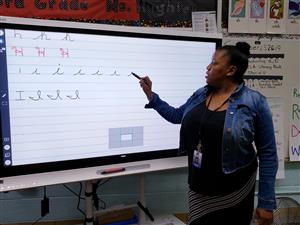 Snow: I have a clipboard with a pile of papers I tackle, while my student "captains" manage themselves. I give 100,000% while I'm here because I cannot do it when I leave! I'm a mom and a wife.
DPSCD: What is the greatest success you have had in teaching?
Hughley: When your students come back and can tell you a story about what helped them learn.
Snow: Seeing my kids grown and when they come back and say "Mrs. Snow you were hard on me, but I'm glad for it."