Return to Headlines
DPSCD Launches Program to Position Students to Step into Leadership Roles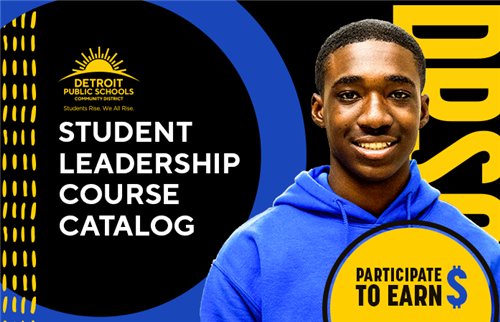 Detroit Public School Community District's (DPSCD) Office of Family and Community Engagement (F.A.C.E.) launched this week a Student Leadership program created to further empower students to develop leadership skills through real-world opportunities. Students can earn $25 for each course attended, up to a maximum of five-courses. The Student Leadership program in alignment with the District's priority of Outstanding Achievement, will contribute to the dramatic improvement of students' academic experience, ensuring they are college and career ready.
"Access and opportunity matter in preparing our student leaders to thrive in life," said Sharlonda Buckman, Assistant Superintendent, F.A.C.E. "The Student Leadership Catalog offerings are all about increasing student agency to have voice, choice, and influence over the experiences they want and need to sharpen their leadership skills, decision making bandwidth, and overall preparation as young adults."
The courses were designed to drive students' growth in the arts, financial literacy, diversity and inclusion, mental wellness, and emotional intelligence. Course tracks include Leadership Development, Personal Development, College and Career Readiness, and Wider Opportunities – a component where students will receive additional opportunities and exposure through district-wide partnerships.
"The Student Leadership program caters to students who have the willingness and confidence to become the best version of themselves," said Brooke Snow, senior at the Detroit School of Arts.
Students who wish to participate in the Wider Opportunities track must have:
A minimum 2.0 GPA
Completed at least 3 sessions to be considered for field trips
Valid I.D.
Vaccination and copy of vaccination record
"This catalog is a wonderful opportunity for students," said N'Shan Robinson, Counselor at Mumford High School. "I hope they take full advantage, because it offers a wide variety of opportunities they can access outside of the classroom."
The Student Leadership Catalog is now available to all DPSCD high school students and programming is scheduled to close in March of 2022 with a Black college tour starting Monday, March 29, 2022.
DPSCD encourages parents and students to embrace the leader within by reviewing the catalog and registering online, because when we do our part Students Rise, We All Rise.