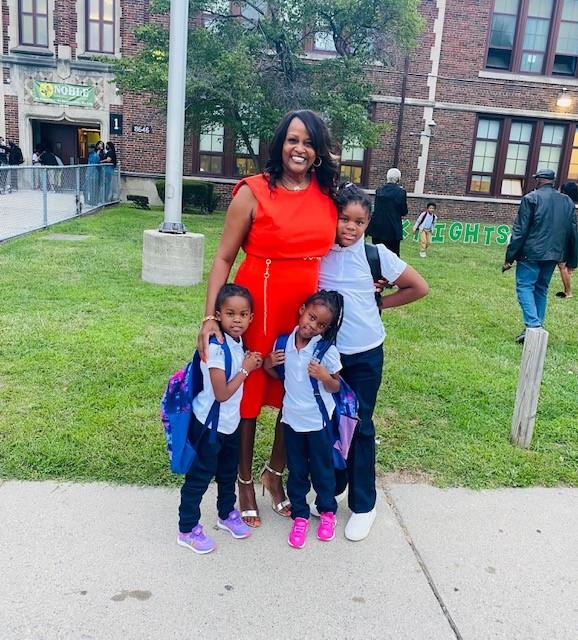 Phone: (313) 873-0399
Email:
Degrees and Certifications:
BA in Journalism MA in Teaching Secondary English/Speech PhD in Educational Leadership/Policy Studies
Dr.

Tonya Norwood

Dr. Tonya R. Norwood is in her fifth year as Principal of Noble Elementary-Middle School. She has 27 years of experience as an urban educator and transformational leader. As a 21st century educator, Dr. Norwood assisted students to achieve academic success by implementing research-based strategies that focused on data instructional methods. As a high school guidance counselor, Dr. Norwood implemented intervention strategies to assist students with their academic, social and emotional development. She worked tirelessly to assist students in the metropolitan Detroit area with postsecondary selections, in addition to obtaining financial aid award packages and college/university scholarships.

As Academic Dean of Inkster High School's Ivy League Academy Program, Dr. Norwood facilitated activities to assist students to obtain Associate Arts Degrees from Wayne County Community College District, in addition to their high school diplomas. During this time, several students received EMT certificates and Performing Arts Scholarships to colleges and universities.

Dr. Norwood has facilitated and implemented 21st-century programs, interventions, strategies and activities to improve student academic achievement, social and emotional development, parental involvement, and climate and culture, as an Educational Leader in the Detroit Public Schools Community District, Harper Woods School District, and River Rouge School District. Dr. Norwood worked as an Academic Engagement Administrator, Turnaround Specialist/School Improvement Grant Coordinator, Transformational Principal, and Assistant Principal.

Currently, three of the schools where she facilitated activities are no longer on the MDE Priority Schools List, one school maintained AYP, and several schools saw a decrease in school suspensions and an increase in student attendance. Dr. Norwood is a firm believer that when data-driven strategies are implemented and strategic decisions are made, the quest for academic excellence is obtainable for all students.

Dr. Norwood received a Bachelor of Arts in Journalism with a minor in Radio, Television and Film from Wayne State University in 1993. She later earned a Master of Arts Degree in Teaching Secondary English and Speech from Wayne State University in 2002. She received a Master of Arts Degree in Counseling, in 2005, from Eastern Michigan University. Dr. Norwood is also a Limited Licensed Professional Counselor (LLPC). In 2007, she earned an Educational Specialist in Secondary Educational Administration Degree from Wayne State University. In 2016, Dr. Norwood attained her Doctor of Philosophy Degree in Educational Leadership and Policy Studies from Wayne State University. She is also a certified English/Language Arts and Speech teacher, Guidance Counselor, and K-12 administrator.

Dr. Norwood is married to Willie Norwood, a physical education and health teacher. They have a son, Willie III, and reside in Southfield, Michigan.