Alumni Associations
Alumni are one of Detroit Public Schools Community District's greatest resources and advocates. The District-Wide Alumni Advisory Council (AAC) is made up of alumni from all classes, open and closed! It is an opportunity for alumni of DPS/DPSCD to: give valuable input and impact to their schools, re-connect with peers, and work directly with district employees to develop and maintain alumni relationships and events. All this, while offering encouragement and support to maintain pride, indepedence and ownership of their individual alumni associations.

To receive information about our upcoming alumni meetings and local events,

Join the DPS/DPSCD ALUMNI CONTACT LIST

Check out our weekly Alumni Spotlight! (ON THE RIGHT->) Want to be featured? It's simple, complete the nominee form and submit a clear photo!

Additionally, we are looking for high school students who need to complete community service hours for graduation! Students would assist in service such as data entry, recruitment of alumni at school events and programs and helping with verification and reminder calls. This is a great opportunity for students to learn more about alumni engagement and to build interpersonal skills they will use today and in the future! Any students interested will need to complete the request form. Thank you in advance for your service.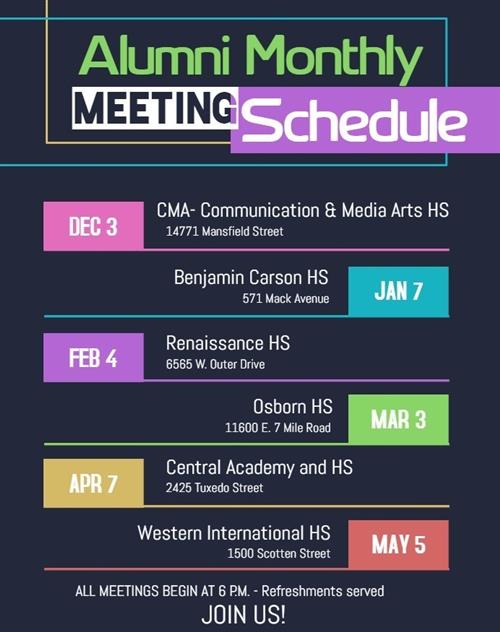 Tanea Menifee, Office of Family and Community Engagement (FACE), Cass Tech HS c/o 2005

Leon Johnson, newly appointed Alumni Advisory Council Chair, Henry Ford HS c/o 1987
January 14, 2020 - Ben Carson HS

Posted by

Tanea Menifee

on

1/14/2020 6:00:00 PM

December 10, 2019 - Communication Media Arts (CMA) High School

Posted by

Tanea Menifee

on

12/10/2019 6:00:00 PM

October 2019 Mtg- Mumford HS

Posted by

Tanea Menifee

on

10/1/2019 6:00:00 PM
Contact us!
Tanea Menifee

tanea.menifee@detroitk12.org

Carmen Cook

carmen.cooke@detroitk12.org

(313)873-7490